Halloween Deals 2019
The weather is changing, the scenery is changing and you just might see a Witch, Ghost, Storm Trooper, Shopkin or other cute like goblin running around the streets. In case you didn't know, Halloween is just around the corner.
Many businesses have Halloween promotions for free food, discounts, and events, I have searched the internet to bring you the best deals I could find.
I introduce you to the Halloween Deals for 2019!
Disclaimer: When I did my research I verified all the information through the company's social media or website. Sometimes things change or not all locations have the same offers, so be sure to check the companies page for up to date information.

Applebee's drink of the month is the Vampire. You can get it for $1 through 10/31 at participating locations.
If you are on Applebee's mailing list, check your email for a coupon for October 31st where kids can eat free with the purchase of an adult entree (2 kids per one adult). If you are not on their mailing list, visit Applebee's and sign up. You will get a coupon for a free appetizer as well.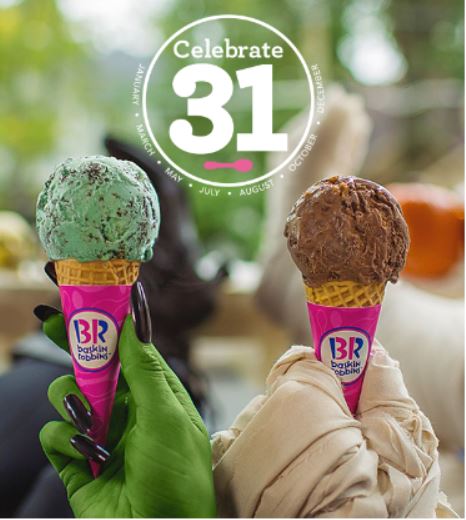 On 10/31 Baskin Robbins is scooping up scoops for $1.70 (some locations may differ).

Kids in costume receive one free kid's meal per purchase of an adult entree.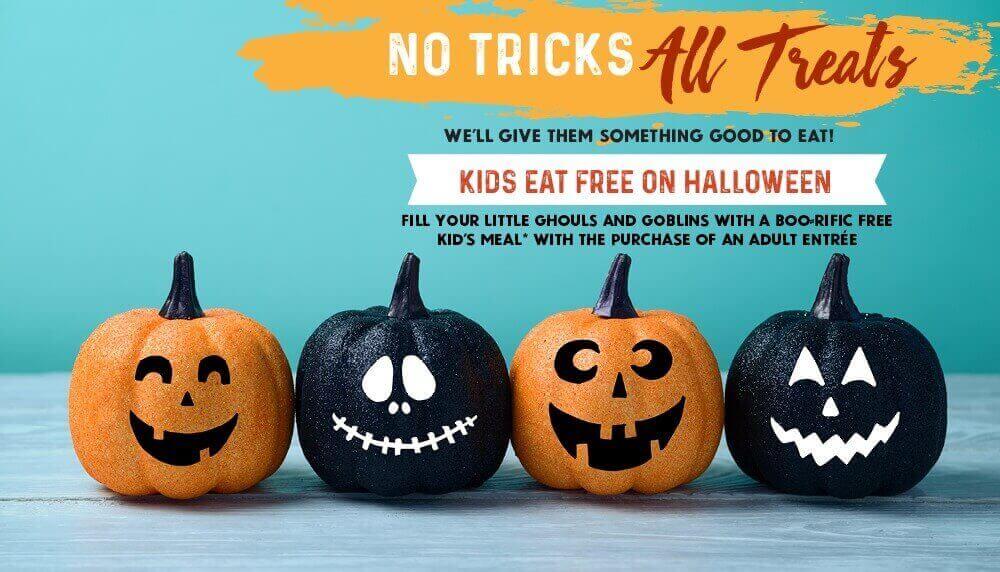 Your little Ghost or Ghoul can get a free Kid's Meal with the purchase of an adult entree.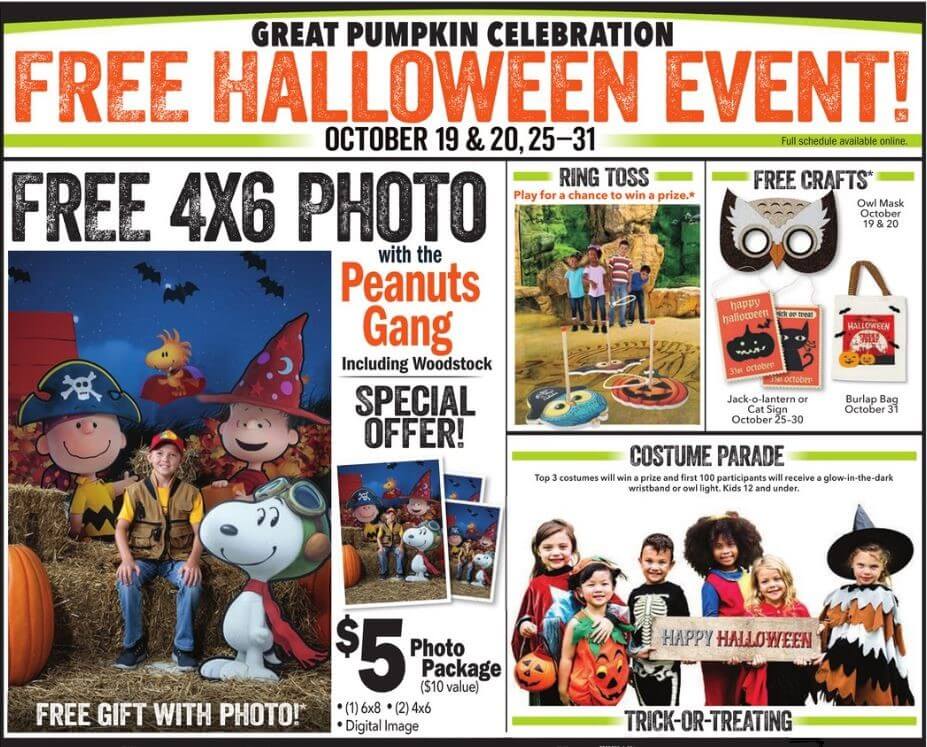 Cabela's and Bass Pro Shops are having a free Halloween Event. They include Free Photos, Crafts, Pumpkin Toss, Cookie Decorating, Costume Parade, and Trick or Treating.
Check out their website for details and schedule of events and dates.
On October 31st you can pay $4 for your choice of an order of tacos, salad, burrito or burrito bowl at Chipotle if you order wearing a costume.

Although October is about over, at Chuck E. Cheese guests can receive 50 free tickets if they are wearing a Halloween costume.
For a special treat, all month long Dunkin' Donuts is offering any 10 munchkin donut hole treats for just $2.
Through November 3rd, kids 12 and under eat free from 4-10 pm with the purchase of an adult entree!
A perfect time to check out their Addams Family Menu featuring Kooky Kids Combo, Wednesday Web-Cakes, Gomez Green Chile Omelette, Morticia's Haunted Hot Chocolate, Uncle Fester's Chocolate Ice Scream Shake, and more.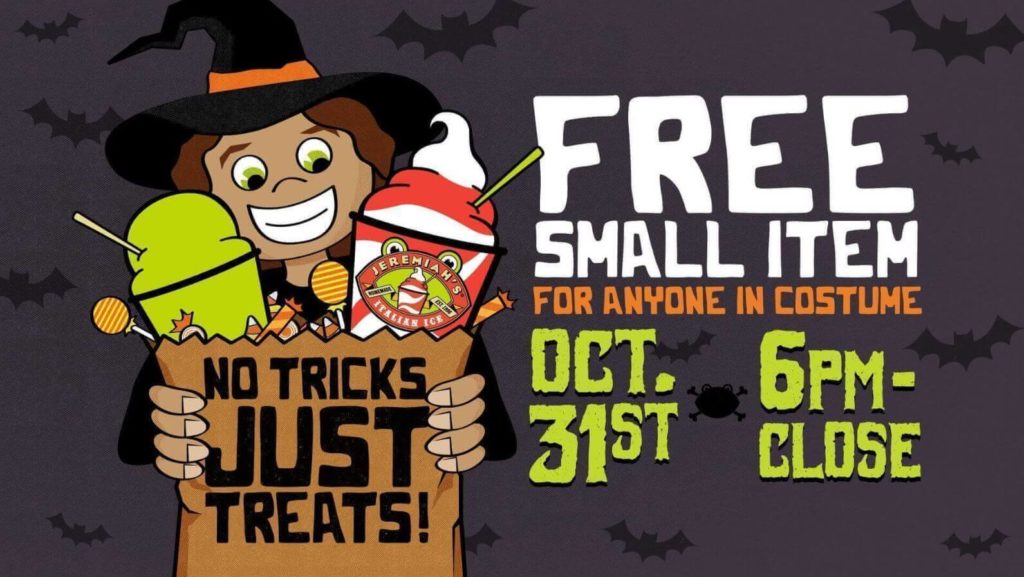 Get a free small item for anyone in costume from 6 pm-close.
Joe's Crab Shack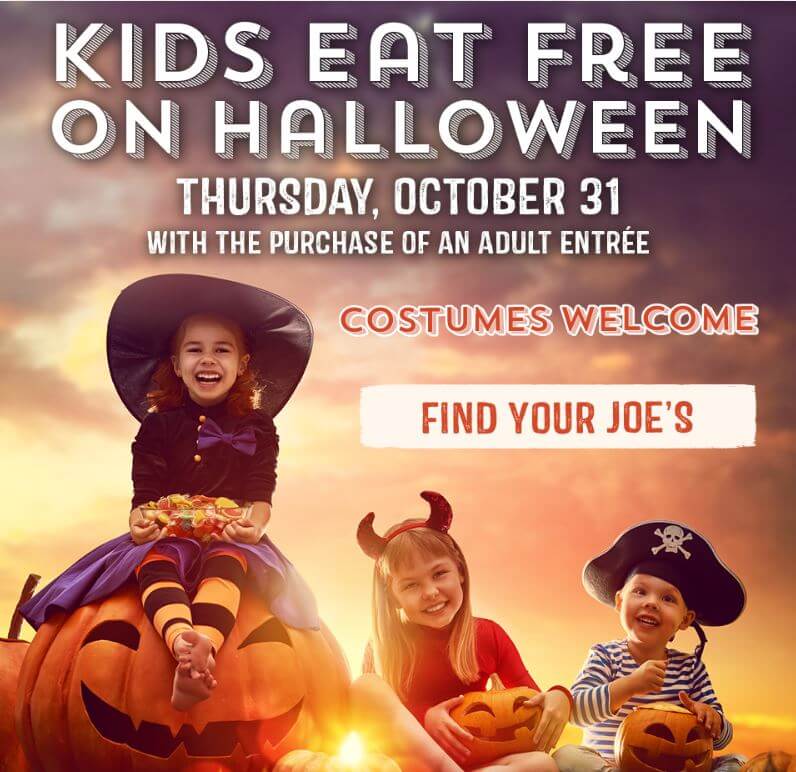 Kids eat free on Halloween with the purchase of an adult entree. Visit their website for a coupon.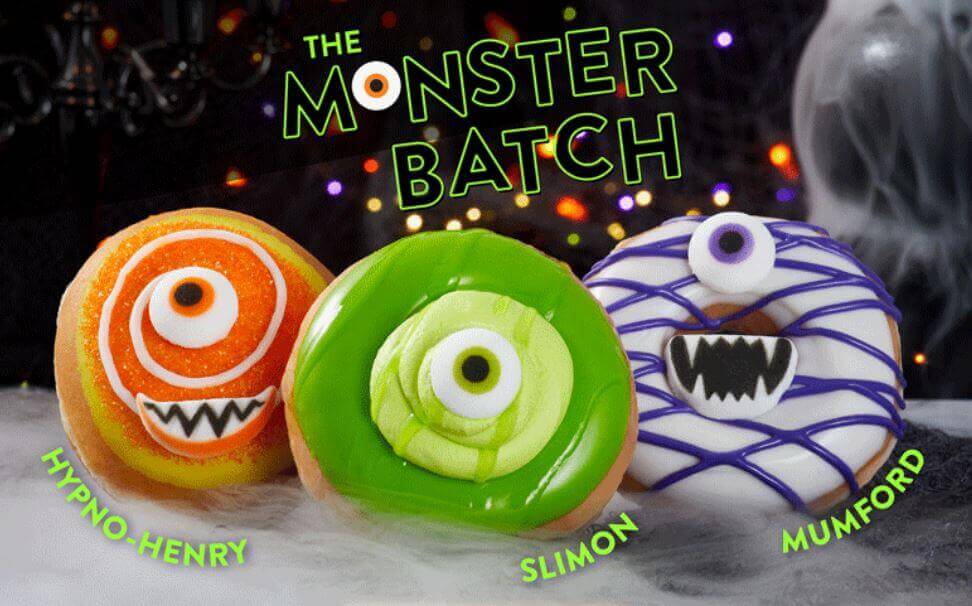 If you visit Krispy Kreme on 10/31 dressed up in your Halloween costume you will score a free doughnut.
You can visit their website and sign up for their Sweet & Simple Rewards club and get a free doughnut as well.
On Saturday, October 19th from 9 am – 12 pm your little goblin can create a Free Haunted House at Lowe's.
Check their website to make sure your local store is offering this event and to sign up for it.
Visit the Halloween House of Fun at Main Event Entertainment. Wear your costume and get free $10 in arcade gameplay. Plus they will be having free treats, a costume contest, trick or treating and more!
Kids 12 and under in costume can get a free kids meal.
At participating McAlister's Deli restaurants, 10/26/19 – 10/31/19, for dine-in and carry out orders only. Offer valid for up to 2 free kids meals per adult entree purchase.
Select locations are offering the Halloween Booklet for $1. The booklet contains 12 coupons for free items for children 12 and under. Free items include ice cream, hamburgers, bags of apple slices and milk or juice.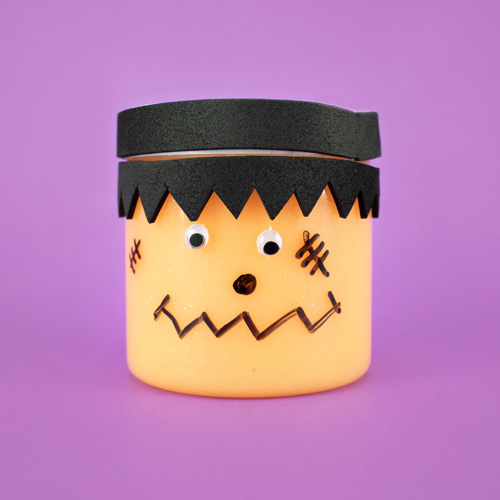 Michael's has some super fun and cute crafts coming up this month. Some of the classes/events have a small fee and some are free. Some also require you to sign-up. Check out Michael's website for local information and to sign-up.
Googly-Eyed Pencil Monster Saturday, October 19th from 10 am – 12 pm. This class is $3.
Spider Web Photo Frame Saturday, October 26th from 10 am – 12 pm. This class is free.
Monster Bash Slime Saturday, October 26th from 1 pm – 3 pm. This class is free.
Even though Old Country Buffet isn't offering a Halloween deal, they have Family Nights every Thursday night and that is the day Halloween lands on this year.
Kids 4-11 eat for only $1.99 from 4 pm to closing. Up to 2 children eat for $1.99 per regular-priced adult.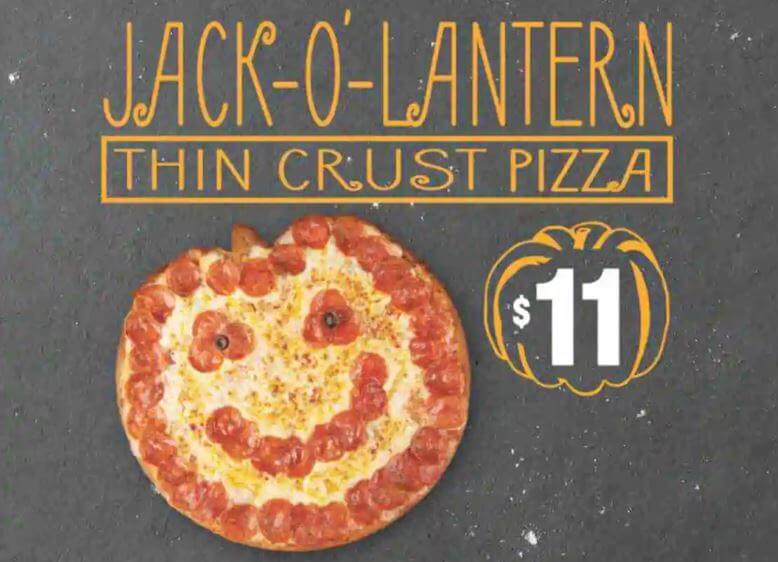 Grab a Jack-O'-Lantern pizza for $11 through 10/31 at participating Papa John's. My local Papa John's has the Jack-O'Latern but it is $18.99.
Papa Murphy's also has a Jack-O-Lantern. You can get a large for $9 or family size for $12. This scream of a deal will be available through November 3rd.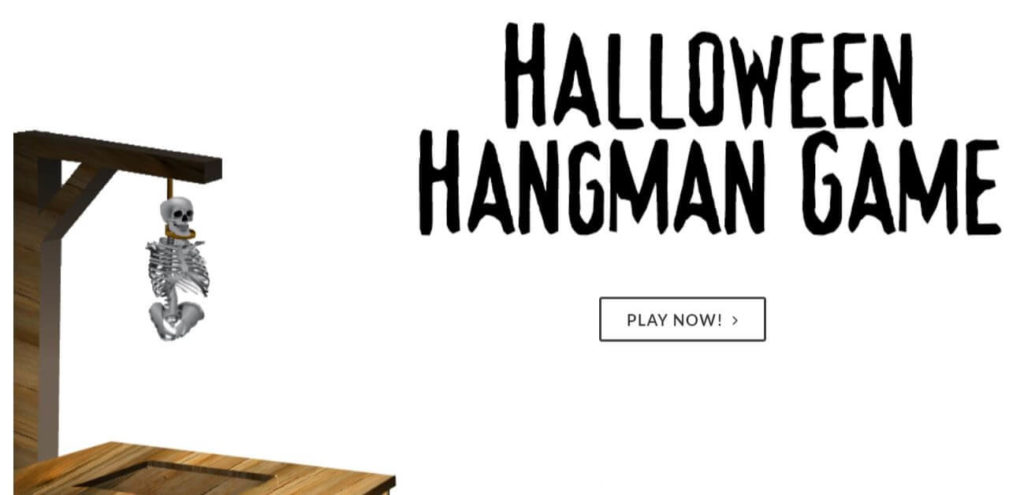 Visit Penn Station East Coast Subs' website and play a game of hangman to earn a reward. I am not sure if all the rewards are the same. I got a BOGO 8″ sub. Good luck.
Something four your four-legged goblins, Treat Your Boo at Petsmart. There will be a pet costume contest (with prizes), trick-or-treating for dogs, pics and more. The event will take place on October 26th from 12 pm – 2 pm.
Visit your local Pottery barn on Saturday, October 19th for a Halloween Craft event. And then on Saturday, October 26th for a Halloween Parade.
Call ahead to get more details.
Kids in costume eat free for the whole month of October. Kids 12 and under who visit after 4 pm with the purchase of an adult entree will receive a free child entree.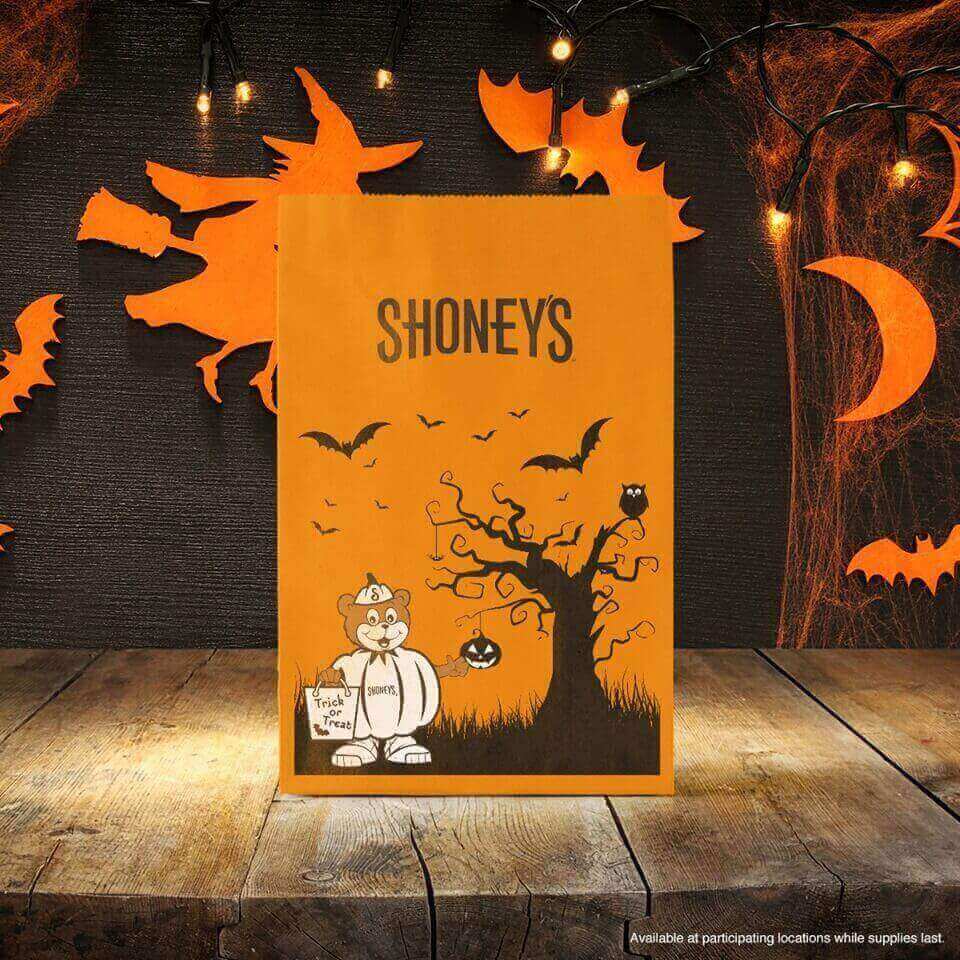 Shoney's Restaurants is giving a free Halloween treat bag out through October 31st.
Get a 50¢ corn dogs at Sonic on 10/31. *I believe this offer will be available this year but I have not seen any information on it yet. I have reached out to Sonic and will update once I can confirm or deny this offer.
Grab a 1/2 price drink or slushy from 2 pm – 4 pm. This is an everyday deal, not just on Halloween.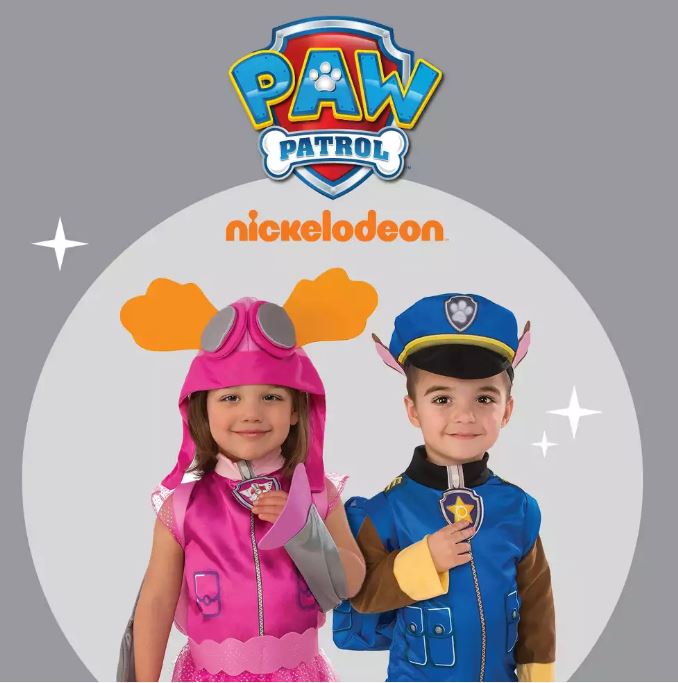 Visit Target on Saturday, October 26th from 10 am- 1 pm in costume for Target's PAW Patrol Trick-or-Treat Event. Kids can trick or treat their way through the store and watch a featured episode of Paw Patrol. There will also be some giveaways. This is a can't miss event for my family and one of my favorite Halloween deals this year.
Wendy's has a Boo Book that you can purchase for $1. A Boo Book has five coupons for a Jr Frosty which you can redeem with any purchase. The coupons are valid November 1 through January 31st.
Kids eat free every Sunday through November 3rd and on Halloween. One free Kids Meal with the purchase of every adult entree.
This year I will have the company of She-Ra, Hello Neighbor, and a pink Butterfly. This year we will be hitting Target for the Paw Patrol Event and then to Michael's for the Slime Event.
Then on Halloween, we will head to our downtown area to Trick or Treat the businesses. On the way home, we will hit a few houses near our house. What are you and your goblins, princesses, and football players doing this year? What Halloween deals did you snag this year? Leave me a comment below, I would love to hear about your Halloween.