How to Save Money on Back to School
I'm not going to lie, this time of year can get spendy. But fear not, I am here to give you tips on how to save money on back to school shopping.
I don't know about you, but for me, it feels like preparing for a big holiday like Thanksgiving or Christmas. So much planning to do, shopping to be done, stressing out, and going over budget.
Well, it doesn't have to be that way. There is a lot of planning involved, especially if you want to save yourself from stressing out and going over budget.
I am ready to help you save money on back to school shopping.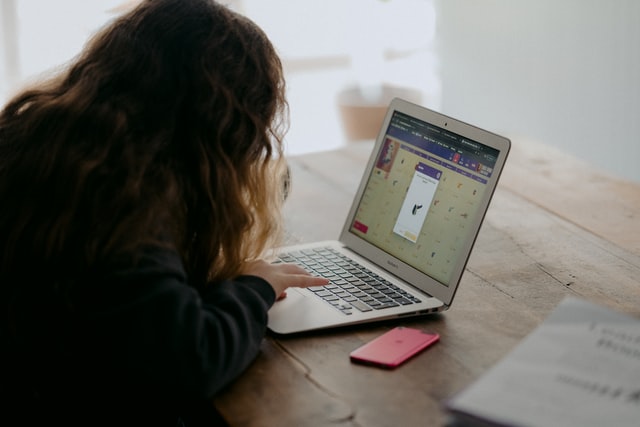 This post may contain paid referral and/or affiliate links.
If you choose to sign up or purchase through my links there is no additional cost to you.
Your mailbox (physical and virtual) might be filling up with ads with back to school sales. You're scrolling Facebook and back to school ads are taking over. The television has ads about the best back to school deals.
You know it is that time of year but you really don't want to deal with it. You know you have to. Where do you start!?!
The three stages of back to school shopping is
Pre-shopping Research
Shopping
Post-shopping
Below I will share with you the strategies that I implement for my own back to school shopping.
But first, sign up for some freebies below. I have included a tracking sheet to keep track of back to school supplies on sale.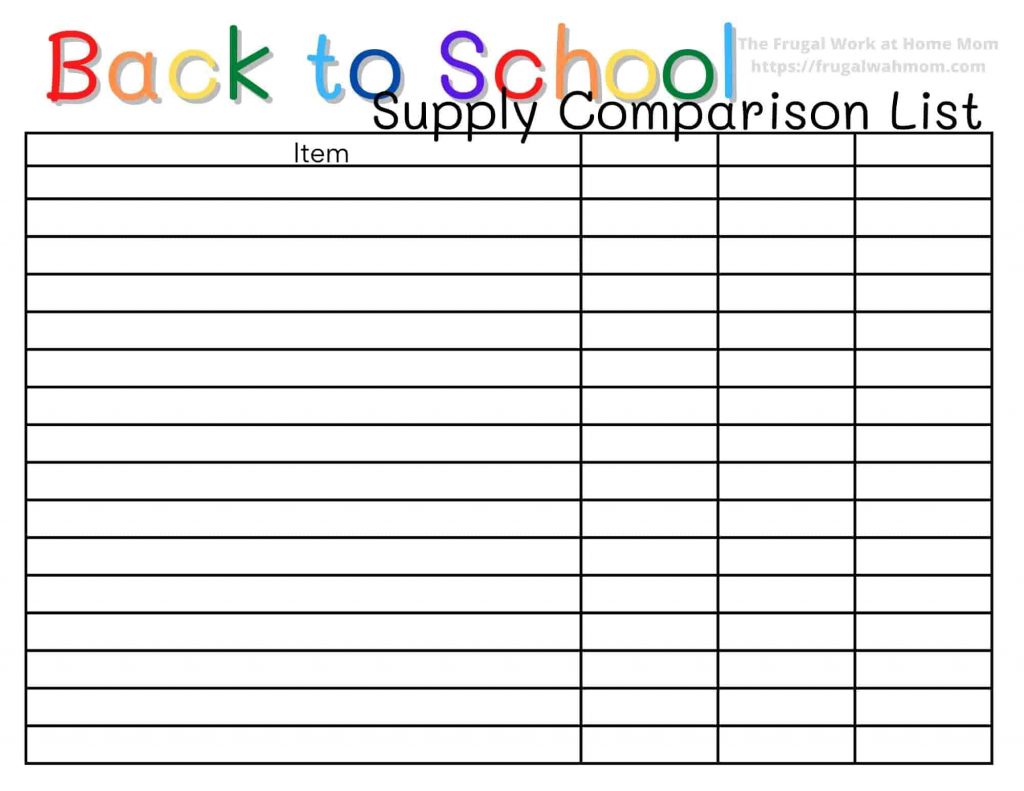 Pre-shopping Research for Saving Money
The number one rule for saving money on back to school shopping and your sanity is by planning out your strategy.
If you plan things out then you will have much less stress and you won't buy things you don't need or already have.

Let's start with what you have
Why go and spend time, money, and energy buying things you already have!?! Do you really need more crayons? Pencils? Notebooks? Do you still have the ruler that you bought last year or is your son's back-pack still in good shape?
How about clothing? Do those jeans you bought your daughter in April still fit her and she only wore them a couple of times?
Many items that you need you might already have. Go through your home and gather whatever you can find that you might be able to use for this coming school year. What can you reuse from last year? Do you have something from your home office that your kids can use? What can you sell that doesn't fit anymore? Find things you don't need but still have use left in it. List it for sale and use the money towards this year's school shopping.
Make a pile of things that you can use and make a pile of things you can sell.

Sell or swap what you don't need
There are many websites and apps where you can sell your gently used items. Some are free and some are not.
Instead of selling gently used clothing and supplies you can look for or organize a clothing and supply swap. You can do this with friends or host it for your whole town. Plan a time to get together and everyone just brings what they can't use anymore and you swap it for things you can use from the others that are participating. It is a win-win for everyone.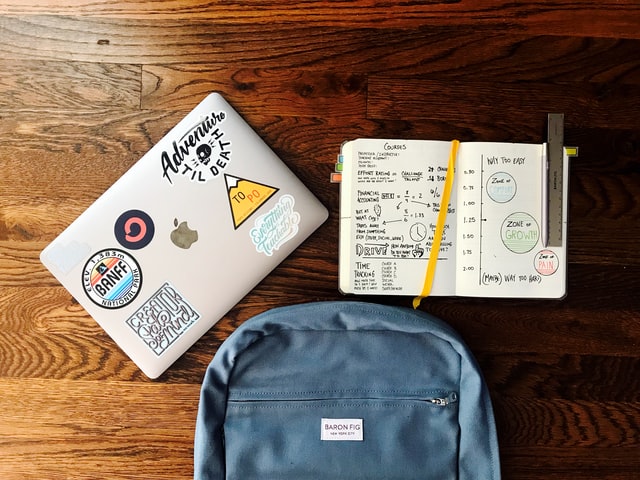 Research lowest prices to save money on back to school shopping
You might think that since one store has a 24-piece box of Crayola Crayons on sale for $1.50 it might be a great deal, but you might not realize that three other stores have them on sale for $1.00.
A great resource for what supplies are a great deal versus overpriced is The Krazy Coupon Lady's Free stock-up price list. You do need to sign up for her email list to get the price list but it is well worth it and you can always unsubscribe if you don't like all the money she can save you. The Krazy Coupon Lady posts a lot of back to school deals as well as other deals. She won't disappoint you.
Gather Store ads
Collect store ads from your local newspaper. You can also use the app Flipp to browse various store ads. This way you can see what is on sale this week at each store and plan your shopping trips. Make sure you look for ads that have clothing as well as school supplies.
Find which stores price match. Walmart no longer does but stores like Staples and Target do. It can save you from running from store to store to get the best deal. Just bring the competitor's ad to the store with you. When a store price matches, they will ask you to show them the competing store's ad to verify the price before marking down their price. Check the store website or their customer service desk for their policies.
Stalk the stores
Sign up on the stores that you shop email lists. Most of them will send out an email with sales and coupons.
For example, I know that Children's Place will give you a $10 coupon when you sign up for email or text alerts.
Also, follow your favorite stores on social media. This way you can catch their sales and coupons. Sometimes they run contests too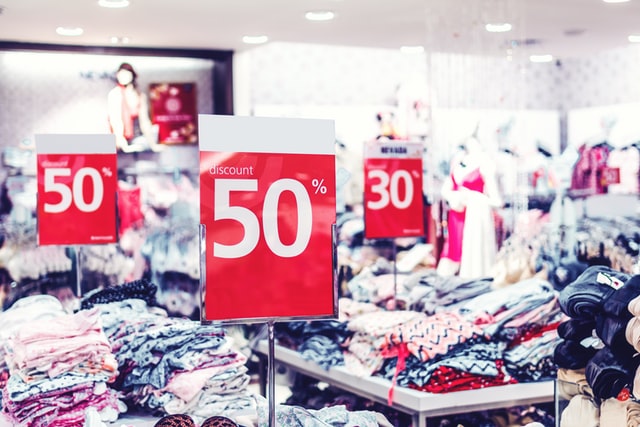 Grab school supply lists from your school
Your school should have a supply list that you can grab in person or on their website (perhaps your district website).
Walmart and Target both offer school supply lists on their website. Just search for your school, select which grade, and a list will populate making it super easy to order right from their website.
Gather coupons
Why pay more than you have to!?! Many manufacturers put out coupons for supplies and some stores have their own coupons.
Some of the items that are needed are art supplies. Stores like Michaels, Joann's, and Hobby Lobby usually have coupons for 40-50% off one item. So if you need a spendy item, that might be the best way to save a good chunk.
Some places to find coupons are:
Tax-Free Day
Most states have sales tax (I miss Oregon and no sales tax). But a handful of those states do offer a day or a weekend to shop tax-free on back to school stuff. Check with your local state to see if they offer a back to school tax-free day or a back to school tax-free weekend.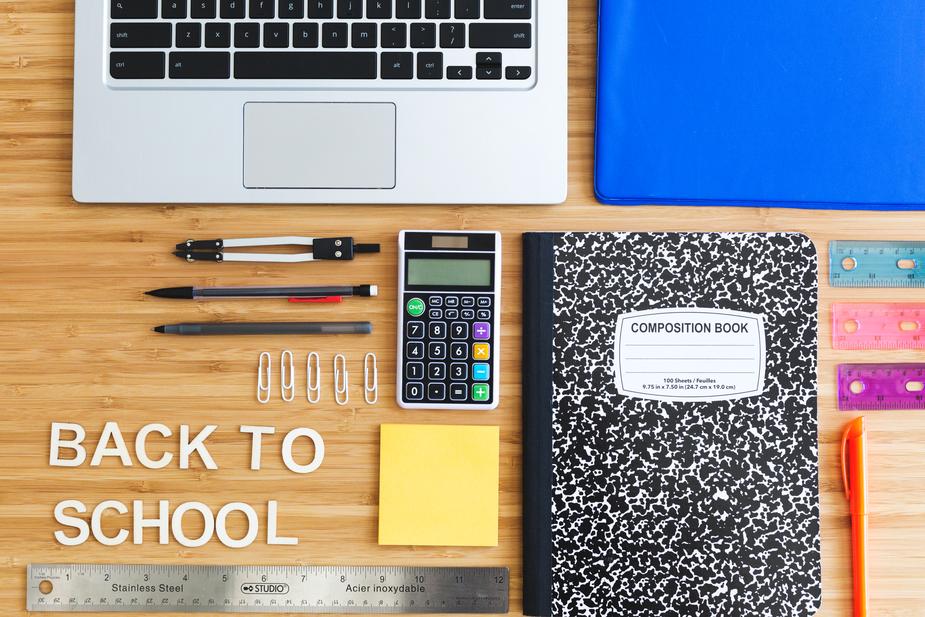 Shopping time. Let's Save you Money on Back to School Shopping.
Let's get to shopping and save you even more money!
Thrift stores
Thrift stores are not everyone's jam but you can get some great deals there for really good prices. Many times they have items that are barely worn or might even still have the tags on them.
Check with your local thrift store to see if they have a discount day. Goodwill has tags that are colored and offer a certain discount on certain days for each color. Like Saturday might be all blue tags are 50% off, etc.
Discount stores
Discount stores usually have really good prices but sometimes those prices are too good and the quality suffers. You will want to check out the item and see if it is worth spending more money for better quality. It just depends on the item.
Another thing is watching the prices. For example, Dollar Tree has a great selection of school supplies. Many items are a better deal than Walmart and Target but be careful as sometimes they are not as good of a deal. For example, I thought $1 for 150 loose note pages was a great deal but then I went to Walmart and they had it for .88 cents and that wasn't even on sale
Some great discount stores to check out are Dollar Tree, Big Lots, Dollar General, Family Dollar, and Five Below (which bought Hollar, one of my fave sites). Not school supply related but I have been looking to get my daughter some sketchbooks, watercolor markers, and watercolor paper. I was looking on Amazon and I wasn't looking to spend too much but I was disappointed as I thought the prices were kinda high. Then I found name-brand supplies on Five Below for much less.
If you live near a Factory Outlet mall you can save money by shopping at the outlet version of clothing stores. The outlet stores typically have the same items but they are either overstock from the mainstream store or they might have very small imperfections that you will barely notice.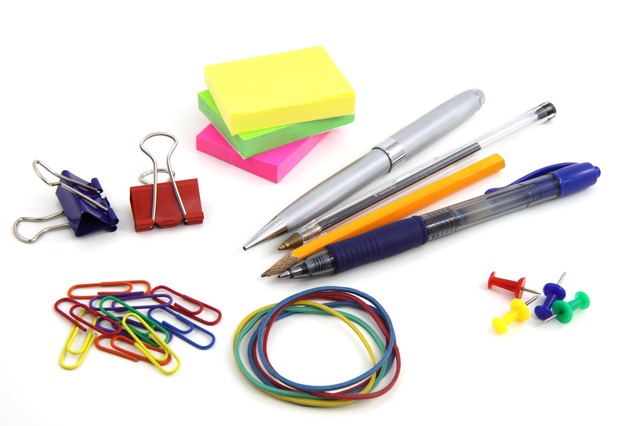 Online Shopping
There are some great resources available that can help you save money when shopping online as well as get money back after you shop.
Rakuten– Sign up and search for the store you would like to shop at. If the store offers cashback Rakuten will let you know. Follow the link through Rakuten to the store and shop like normal. You will have cashback in your account in about 24 hours. Then Rakuten pays out once every three months. If you sign up through my link Rakuten will give you a $10 bonus (this amount varies, I have seen it as much as $40 and as low as $10) when you redeem your first cashback shopping trip.
RebateMe- RebateMe is like Rakuten. They have a lot of the same stores but some different ones as well. When I do my online shopping I like to compare the amount of cash back at each one and choose the one that has a higher payout.
Honey– An extension for your browser that will help you find the best deals, promo codes, and savings. Your savings will be applied immediately. You can also sign up for Honey Gold for free and earn gift cards.
Earny– An extension for your browser that once you activate it you can earn cashback, track prices and track real-time price alerts and get a refund if prices drop after you make a purchase.

Capital One Shopping– You are probably familiar with Capital One (a bank with checking, savings, as well as credit cards) but they also have an awesome extension that checks prices from multiple sellers like Walmart, Target, eBay, Jet, and other stores to find what store has the lowest price. It also tests coupon codes to give you the best price on the internet.
CamelCamelCamel– An amazing Amazon price tracker, with Amazon price history charts, price watches, and price drop alerts.
After Shopping ways to Save Money on Back to School
You planned, you shopped, you think you are done. Nope! Let's try to save even more money.
There are sites and apps that give you money back! What!?! Heck yes! Check out the post I wrote giving you the low-down on all the popular programs.
Ibotta– While most of the items are grocery items (food, household, and personal care), Ibotta does have back to school supplies as well. As I write this, they have pens and notebooks. To learn how Ibotta works check out my full post on Ibotta: The most popular cashback app.
Checkout 51– A lot like Ibotta, Checkout 51 is an easy way to save money on groceries from the brands you love! Redeem exclusive offers and deals when you go shopping and they'll send you cash back.
Receipt Hog– Receipt Hog is an app that turns your shopping receipts into easy cash rewards! The more receipts you snap, the more rewards you'll earn! For every qualifying receipt, you snap a picture of and submit, you'll earn coins or spins depending on the retailer on your receipts, and a sweepstakes entry for the monthly drawing.
Receipt Pal– ReceiptPal lets you earn great rewards in a snap just for taking photos of your receipts.
Coupons.com– Printable coupons. Usually, you can print two of each coupon.
Additional Tips for Saving Money on Back to School Shopping
Shop after the big rush. Just today I went to Walmart and was looking for a few things I had left on my list and many things were already marked down. It is only the beginning of August. By the end of August and the beginning of September, most items will be marked down.
Around the beginning of August, I noticed that shoes and summer clothes have already been on clearance. I got all three of my kid's shoes for $3.00 each. It is a great time to stock up on clothes for the spring, maybe just buy a size up from what your child is in right now.
Stores like Staples and Officemax usually have awesome deals. They usually offer teasers, some super-low price deals to get you into their store.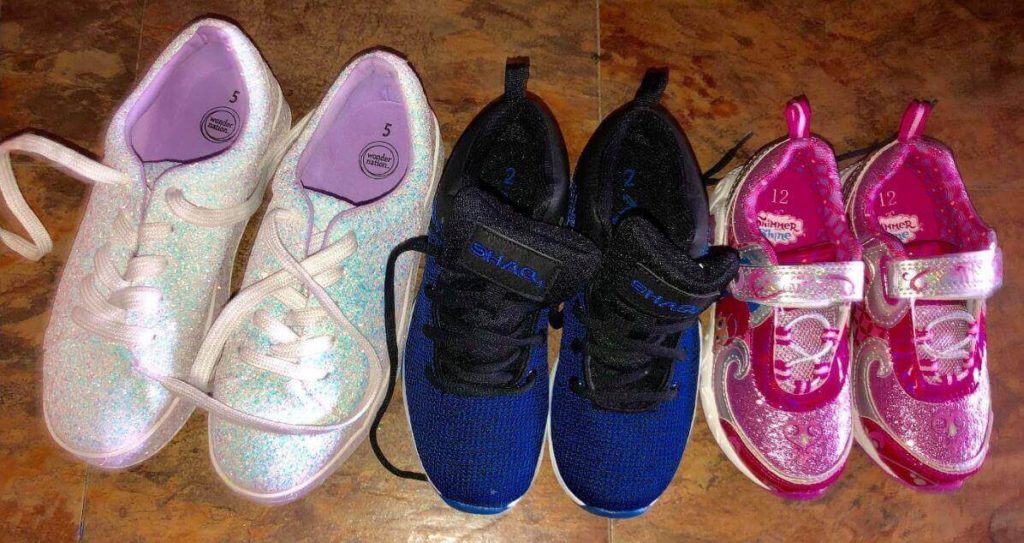 Back to School Supplies Amazon Deals
If you don't already have an Amazon Prime account you can get a free 30-day trial. This would be a great time to try it out before the holidays to see if it is something that your family can use. There are many benefits to having an Amazon membership but the free shipping is worth it to our family.
Frequently Asked Questions
How much should you spend on back to school clothes shopping?
This varies from family to family. There are many variables including: are your children homeschooled, in elementary, middle school, high school, or even college? Some areas have organizations that have low to no cost supplies for those that are low income.
For my family, I buy clothes throughout the year on clearance so I don't stock up on clothes for back to school. For supplies, I generally have leftovers from the year before or buy after things go on clearance for the following year. We usually get a new backpack every other year, after the kids go back to school.
Last year I went from having one student to three and all three were homeschooled, so I did buy more supplies than normal but this year I only need to get some subject notebooks for my 6th grader and that is it. I will probably pick up odds and ends when they go on clearance and put them away for next year.
When should you start back to school shopping?
Don't stop! Make back to school shopping an all year round thing. When you find something on clearance, pick it up and put it away for school. When fall comes there will be summer clothes on sale that you can pick up for next spring and when spring comes pick up winter clothes for next fall. Just buy a size or two up for your children. This is the number one way to save money on back to school shopping.
If you are needing supplies and clothes and don't have things saved up then I suggest you start checking out the ads in early July, right after the 4th of July. You can keep an eye on the sale prices and get things that you really need. If it is something that isn't that important and your children can wait until just after school starts, wait until then when the clearance prices start.
What is needed for back to school?
This varies per family and per child. Start by going through your house and seeing what you have and taking inventory. Start with clothing. Get rid of what isn't needed and see what your child might need for the next 6-9 months. Then check out their school website and see what their school recommends or needs. Start there. Don't get overwhelmed and don't overdo it. Keep it simple.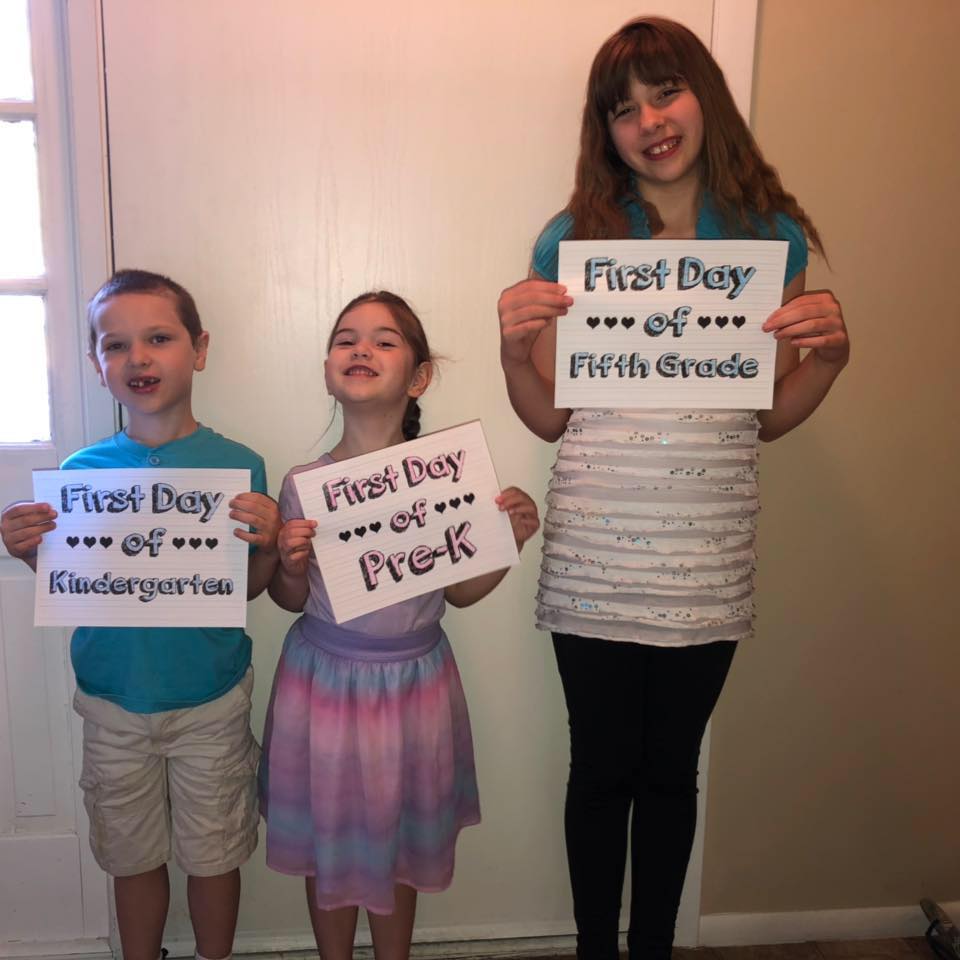 From my kids to yours- have a great 2022-2023 school year!
More back to school resources:
There are many back to school posts on the internet but I have joined with some great bloggers (and friends) to bring you some of the best resources to get your back to school season off on the right foot.
Are you feeling stressed out about back to school or even just pressure to succeed in anything you are working on!?! Beth Moore with Moore Wellness has written a post about Back to School Ideas & How to DeStress.
Do you struggle with planning lunch for your child or even yourself? Lisa with Gather Love LLC has some very yummy recipes and ideas to change up your lunch from the standard (and boring) sandwich- Back-to-School and Workday Lunch Ideas.
Lisa helped us with some great lunch ideas but don't forget snacks are important for our children too. Kelly from Homesteadin Crazy has us covered with some healthy Back To School Snacks For The Kiddos.
Something that is very important to my family is reading about God's love and his word. So when Carrie and Nina from Forget Him Knot released a free printable with 52 Back To School Bible Verses I had to download it.
Not all children are created equal and some children need some extra help, either in class or after class. Tiff from Spectrum Sense for Moms has some great advice on How to Handle After School Meltdowns.
Don't have kids going back to school this year?!? Been there, done that! Well, guess what, Jill from Adventures in Nana Land has come up with some awesome tips for you to help your children and grandchildren. Check out When Grandkids Go Back to School: How Can the Grandparents be a Support?
Got any tips to share?
Leave me a comment below with your best tip on how to save money on back to school shopping.